4th Annual Wobble & Gobble 5k Virtual Race
We are very excited to announce that the 4th annual Thanksgiving Wobble & Gobble 5k is still happening this year... virtually! It's a little different this year, as it is a virtual race, but that doesn't mean you can't reap the same benefits (and then some!)
We'd like to proactively approach any questions you may have for the virtual race!
1. Where do the proceeds go?
100% of the proceeds are going to the Bryant Pond 4-H camp and Learning Center, both to year-round programming and projects.
We are proud to be a Cornucopia sponsor alongside Pelletier Custom Build Homes!
"This is the 4th Annual Wobble ad Gobble 5K Race to benefit the Bryant Pond 4-H camp and learning center located on Lake Christopher in Bryant Pond Maine. 100 % of all race proceeds will go to support the 4-H camp and Learning Centers year-round programming, and projects.
Your support is important. It has been a very challenging year with all spring and summer programming being canceled due to COVID-19. Your race participation will help to ensure a brighter future so that the 4-H camp can continue to reach out and connect participants to the natural world around them."
2. How much does it cost to register? Do I get a shirt?
It's only $20! How about that?! Register here: https://www.runreg.com/9646
Every registered runner will receive a long-sleeve shirt with our Turkey logo, pictured below!
Please be sure to indicate your size during registration. Due to mailing, sizes will not be able to be exchanged.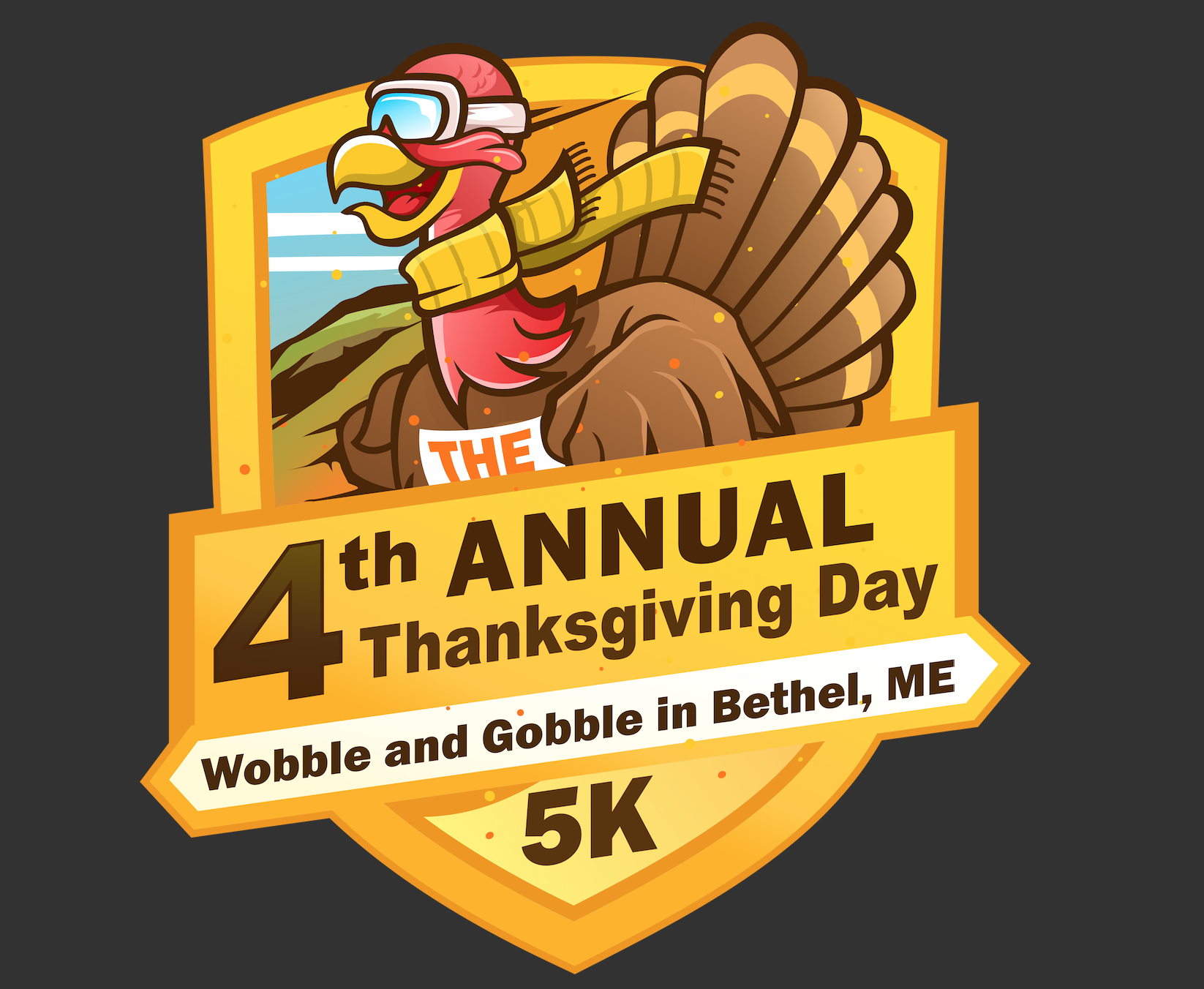 3. Do I have to compete on Thanksgiving Day?
You can if you'd like to, but you can finish the 5k November 21st - November 29th!
4. Will there be medals and prizes?
Yes, there will be! We will have creative categories for prizes which are these one-of-a kind metals
Category examples:
Most elevation gain

Warmest temperature on day of run

Coldest temperature on day of run

Fastest time

Most remote trail used

Most populated city course

Best costume worn

Fastest three female

Fastest three male

Fastest time on traditional course (male and female)

Most inspiring post about your 4H experience on Social Media

Most fun running post with our race tagged


...and more coming your way!
5. Am I automatically eligible to compete for the medals and prizes?
No, you must record your race information on Strava, on which you will need to make an account if you don't already have one.
Participants wishing to be included in the medals will need to have their information uploaded from Strava. To create a new free account visit https://www.strava.com/
Please use the hashtag #Bryantpond4hcamp on your Instagram and Facebook photos! One of the prizes will be for "Most inspiring post about your 4-H experience."