Wife Carrying Championships: This Weekend
This annually epic weekend is quickly approaching and, for good reason, everyone is getting excited.
This is a popular weekend in the Sunday River Area and our real estate market shows it: rentals are booked, residential closings are scheduled and people are calling daily to set up showings for properties while they will be in Bethel or Newry.
Columbus Day weekend is especially meaningful for me as Mark and I were married at the Peak Lodge over Columbus Day in 2014. Close friends and family were there to share with us in celebration at a beautiful place that held so many of my favorite memories: hot cocoa as a River Runner, warming up with Telstar team mates under the hand dryer in the Barker Lodge bathrooms, and Gould Academy's "the end" for its senior class celebration.
"So what's with the wife carrying"? Melissa, a close friend from Montana was curious about the event she had witnessed earlier in the day while waiting for the wedding to begin. That's a funny story.
I must have been a sophomore in high school when my father read an article (likely in Readers Digest or Runners World- I'm not sure which to credit) about the crazy Finns and their wife carrying tradition.
"Well, Bethel should do that." Dad said out-loud. And so it began. Dad called Sunday River to host the event and then went to work with the logistics of the race, the feasibility of the grand prize (two round trip tickets to Finland to compete in the Wife Carrying World Championships were booked at his expense and at his assurance that this event would take off and be great for the community) most importantly, the race course and runner's strategy were planned.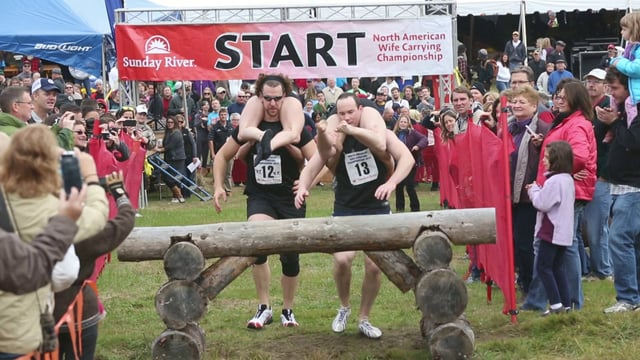 "You will be suspended upside-down with your legs in the air and your arms around my waist. I will carry you like this for approximately an hour; through mud, up mountains and over obstacles." My mother's face fell as she stared at my father. Not only did she agree but she practiced with him a few times in the front yard.
"Cass, you'll need to find a few friends, we'll need some guinea pigs for the course before we send out the paying contestants."
Bless their hearts- I rounded up five Gould Academy classmates and come race day, three pairs of us hobbled through the course.
Prior to the event my father was interviewed by TV, radio and other writers about the race.
"Where did this idea come from?" How'd the event come to be"? he was asked over and over. \
His response was always the same: "Sunday River has the perfect terrain for the race and our local community, along with the fun-loving tourists that it attracts, make up the perfect adventure-seeking crowd to turn this event into a long time tradition".
If you'd like to sign up for the North American Wife Carrying Contest, click here
If you love your experience at Sunday River's Wife Carrying Contest (so much that you'd like to live here forever) please call us today: 207-418-1560


3 New Hikes in Bethel
Back in town for the first time in a while? We have 3 New Trails in the area for you to check out!
3 Minute Read